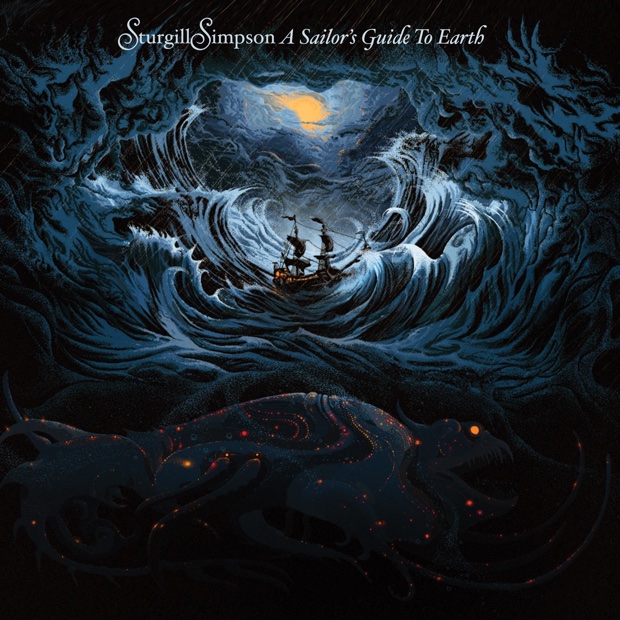 The leading figure in modern country music is back! Sturgill Simpson has just released (Friday, April 15th) his new album A Sailor's Guide to Earth, a sort of open letter to his newly born son. If you're someone like me, you're excited to hear this album after hearing the formidable country classic Metamodern Sounds in Country Music, and this album does not disappoint making it a great follow up. With this new release, Simpson continues to stretch the boundaries of country music, infusing other sounds and genres into the country twang foundation of his songs and combining it with subject matter that is personal, emotive and easily relatable.
The first track "Welcome to Earth (Pollywog)" is a really good album opener in the sense that it slowly slips you into the mood of the record. It starts with the sounds of the shore, the waves of the ocean, a ringing bell, seagulls in the background, all metaphors for the life his son is beginning to embark on (these sounds are a recurring theme throughout the album), until the piano comes in and settles you in to the environment that Sturgill creates. Then the second half of the song explodes into a fiery groove of soul with the horn section of The Dap Kings providing the joyful celebration of this new life Simpson is introducing to the world.
The Dap Kings are on five of the tracks, and their domination continues with "Keep It Between The Lines", a song that resembles a kind of street education for his son, with a "you can have fun but don't go crazy and lose yourself" message that is backed by a groove that will commandeer your senses and body, forcing you to move to its infectious swing
.
All of this isn't to say Simpson abandons his Kentucky bred sound either. "Sea Stories" really brings the slow, thick southern drawl and adds to it with "Brace For Impact (Live A Little)", a barroom stomper if I've ever heard one. The country blues sound is even adopted for a tender and reflective cover of Nirvana's "In Bloom" which caused me, someone who immersed himself in Nirvana's music during the early 90's as a teenager, to give it multiple listens just to confirm it was the same song. Its a rendition that speaks to the soul and is equally haunting as it is comforting. Its clear when listening to it that Sturgill cares about the song, its delivery and performance.
There's an imaginative construction to these songs, something that is hard to find in country music as a whole. Simpson didn't create these songs or build this album on a straight line allowing an easy listen for his audience. His country voice is the only constant reminder that this is in fact a country artist playing country songs, everything else about the album makes you question if you're really listening to a country album and I can't begin to tell you how refreshing it is to have a country artist make country sound a little different.
In
my review of Margo Price's fantastic album Midwest Farmer's Daughter
,
I made mention that my only problem with it is that it recycles the usual themes constantly found in country music. Yeah, there's none of those same old country themes on this album. Sturgill is looking around, finding inspiration in different things and its what makes him such an interesting, cutting and dynamic figure in country music. He's not following the norm, not taking the road constantly traveled. He's forged his own path. This album, along with his previous release, is a blatant contradiction to all those "country music only sings about beer, losing your wife, girls in cutoff jeans, pickup trucks and dogs" accusations that I've rolled my eyes at since I was in middle school.
All of this is a credit to Simpson, who with this album is making it clear he isn't afraid to challenge himself or country music's loyal fans. He produced this album himself instead of Dave Cobb. He creates a unique sonic landscape while keeping the songs rooted in traditional country fashion. He proceeds to carry us through different story lines, scenarios and lessons while buckin
g some traditional country music trends as well. None more so than with the album's closer, the kick ass rocker "Call to Arms", with a theme synonymous with Springsteen's "Born in the U.S.A.", with a support our troops but not the war and policies mantra. "I done Syria Afganistan Iraq and Iran/North Korea tell me where does it end/Well the bodies keep piling up with every day/How many more of 'em they gonna send?". A Navy man himself, Sturgill isn't questioning his service and sacrifice, as well as the many others who have served, but is wondering if the powers that be actual know the answer to that final question. He follows that up with what is the lesson for his son, "Well son I hope you don't grow up/Believing that you've got to be a puppet to be a man."
With his last album, Simpson made a name for himself. On his new release, with lyrics and subject matter that wanders away from the standard mainstream country fare, he's separated himself as an artist and as a visionary musician. Sturgill Simpson is not a yes man, willing to give in easily to anything that is simply placed in front of him. He's searching beyond that for a song with a purpose. A Sailor's Guide To Earth is an album meant for his son, with a purpose we all can learn something from.
Follow The Surface Noise on
Facebook
Follow
@thesurfacenoise
on Twitter